Penetration coating
Specially developed building chemistry offers a system solution for IMIT tiles.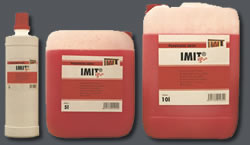 is part of the IMIT System
improves adhesion to the substrate
does not contain solvents
reduces the absorbency of the substrate
for indoor and outdoor use
odorless
Features and Usage:
It strengthens the substrate and reduces its absorbency. IMIT®Pen-coated substrates are prepared for IMIT®Tmel adhesive application and subsequent bonding of tiles. IMIT®Pen contains no solvent, does not smell and is suitable for use in both the exterior and the interior. IMIT®Pen can be applied to concrete walls, porous concrete, lime plasters, lime-cement, gypsum, plasterboard, cetrisdesk, chipboard, overcoat and other similar materials.
Background Preparation:
The substrate must be savage, clean, free of grease, free of icing, solid, free of paint, separating agents, free of dust and loose particles. For bonding tiles on gypsum plasters, make sure they are not curled or curled. Highly absorbent substrates are recommended to be double-coated. IMIT®Pen is applied undiluted by brush, roller or sprayer. We can apply the best backing to the surface with a paint brush. The surface after drying must be abrasion-resistant, otherwise the paint must be repeated. IMIT®Pen should be applied in such a quantity that it does not form a glossy film. After drying approx. An hour, tile bonding can be applied. On plaster-containing materials it is necessary to allow the paint to dry for 24 hours. IMIT®Pen can not be processed at temperatures below +5° C.
Technical specifications IMIT®Pen:
Material base: Synthetic dispersion
Color: red
PH: 8
Density: about 1 kg / l
Heat resistance: from -20 ° C to + 80 ° C
Processing temperature: from + 5 ° C to + 30 ° C
Break between coats: approx. 30 min.
The distance between the posl. coating and cladding: 1 hour and 24 hours for plaster-containing substrates
Detergents: fresh water
Notice:
All these times refer to a temperature of 23° C and a relative humidity of 50 %. Higher temperatures and lower humidity increase air drying, lower temperatures and higher drying humidity.
Consumption:
Approximately 150 ml / m2 per coat
Packaging:
Plastic packaging 1, 5, 10 l
Storage:
In the cold, protect against frost. Store in original sealed envelopes.